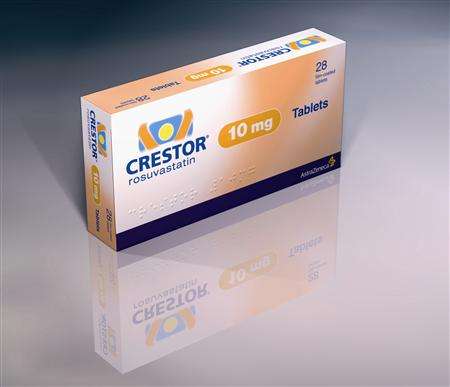 During the last months, we have been learning about all the benefits of Crestor® showed by the JUPITER clinical trial (the last one just two days ago).
Well, last  monday, when everything was looking perfect for AstraZeneca, AURORA results were made public at the  2009 ACC meeting.
Unfortunately for Crestor®, Rosuvastatin fails at the primary endpoint of the study, as expressed on the conclusions of the NEJM article published two days ago:
Conclusions In patients undergoing hemodialysis, the initiation of treatment with rosuvastatin lowered the LDL cholesterol level but had no significant effect on the composite primary end point of death from cardiovascular causes, nonfatal myocardial infarction, or nonfatal stroke.
Two of the main-conclusions slides are shown here: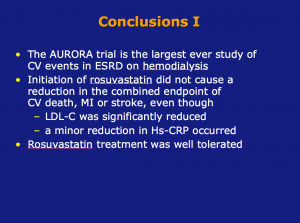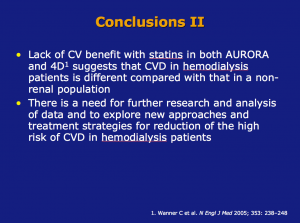 The New England Journal of Medicine editorial questions: Sunset for Statins after AURORA?, and establishes four possible causes for the product to have failed:
The study not being powerful enough
The 50% drop of treatment amongst patients due to lack of results
Particular exclusion characteristics which could lead to concentration of patients with previous CV disease
Patients undergoing hemodialysis may be not prone to CV benefits
At the end of the day, they also comment that differences may exist in the causal pathway for early cardiovascular events and death in patients undergoing dialysis.
Is this a big setback for Crestor®?
We think it's very early to say. According to JUPITER results, Crestor® has been a very tough product in terms of efficacy when total mortality, CRP and Venous Thromboembolism was mentioned.
The fact that the primary endpoint of AURORA had failed, could have plenty of different reasons as has been commented by NEJM.
It's difficult to determine the future outcome of a product that has been successful just for the results of a single result of a clinical study.
Statins have shown to be a great tool when preventing CV events and mortality.
In our opinion, it would be wrong to transmit the idea of a flaw or weak point, especially when the product and the class have demonstrated clear benefits.