ENGLISH BELOW
Sanofi Pasteur ha dicho este miércoles que "se encuentra listo para desarrollar una vacuna contra el A(H1N1) identificado por la OMS", según un anota publicada en Les Echos.
De acuerdo con este influyente diario, la OMS ya ha contactado al laboratorio Francés para que se haga cargo del desarrollo de la vacuna.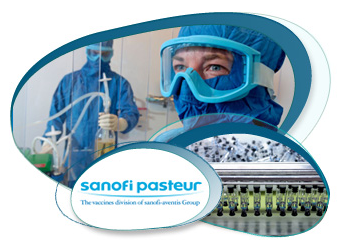 La noticia ha sido más que bienvenida por los inversionistas y el precio de las acciones de sanofi-aventis se ha incrementados más de 4% en un sólo día.
El laboratorio ha sido -igualmente- contactado por la FDA y la EMEA, a fin de desarrollar esta vacuna para su distribución en los EEUU y la Unión Europea.
Sanofi-Aventis recientemente firmó un un acuerdo de cooperación bilateral con el Gobierno de México, a fin de poner en marcha una nueva planta para la producción de vacunas con tecnología de Vanguardia en la zona de Ocoyoacac. Bajo este acuerdo, la Secretaría de Salud recibirá entrenamiento y ganará expertise para un ulterior desarrollo de vacunas enfocadas a sus programas de inmunizaciones.
México cuenta con uno de los programas de vacunación universal y gratuita más completos y ambiciosos del mundo; en él todos los niños mexicanos reciben de manera gratuita todas las vacunas.
Este programa, que es un modelo en el mundo,  ha sido desarrollado durante los pasados 25 años. Además de ser autofinanciado, cuanta con la participación de donativos de la iniciativa privada.
———————————————————————————
French vaccine-manufacturer Sanofi Pasteur  has said this wednesday that it "is ready for developing a vaccine against the A(H1N1) identified by the WHO" according to a note published at the financial French journal Les Echos.
According to this influent paper, WHO authorities have contacted the laboratory in order to ask for such a task.
These news have been more-than welcome by investors as sanofi-aventis shares rose more than 4% in one day.
Sanofi Pasteur has been –also- contacted by FDA and EMEA authorities in order to develop this vaccine facing potential distribution within USA and the  EU.
Sanofi-Aventis has recently signed a bilateral-cooperation agreement with the Mexican Governtement in order to start building a state-of-the-art vaccine-manufacturing facility in Ocoyoacac. Under this agreement, Mexican Ministry of Health would receive training and gain expertise towards an ulterior local vaccine-development for its vaccination program.
México has one of the most complete, free and universal immunization programs in the world, where all children receive all possible vaccine for free.  
This program, which has been developed during the last 25 years is a case-study worldwide. Besides been self-financed, it receives occasional private initiative donations.