Book Review.
All MSLs started with no experience!
(The guide to becoming a Medical Science Liaison).
Jane Chin, Ph.D.
2009, Medical Science Liaison Institute (Publisher)
·
by Xavier Tello, MD
Pharmaceutical business is full of advantages for all kinds of stakeholders; however, it's also a very competitive arena in which only the most capable enterprises would get the attention and preference of the first customer: the Physician.
Regardless of the business expertise and the communications (and advertising) background a Pharmaceutical Company could have, there will always be some distance between the scientists and the business people. Furthermore when these scientists need to approach Pharma, seeking for help to develop some research, or the health enterprises need the skills and influence of some researcher, the communication could not be easy.
A bridge is needed. So this help comes in the form of a science professional, who becomes an interpreter for the company, in order to deal scientifically and professionally with the people in white robe: The Medical Science Liaison (MSL).
These professionals belong to a rather "obscure" part of the health-business chain in which very important links and relations are built between science and sales, or medicine and marketing.
Having a science background, the MSL should be capable of working very close to "Key Opinion Leaders" (KOLs), academic professors, medical researchers and experts; and coordinate their work following or adjusting it to a Pharma company's agenda.
Jane Chin knows that, first hand. With a Ph.D. in Biochemistry (Oncology) she started her career in Pharma in Bristol-Myers Squibb, following with Takeda and (the former) Aventis. Based in California, she is the President and Founder of the Medical Science Liaison Institute and the author of: All MSLs started with no experience! (The guide to becoming a Medical Science Liaison).
In the 136 pages of this book, Dr. Chin offers a practical and punctual approach to potential candidates or MSL rookies, on how to overcome the difficulties of assuming a new career pathway; thus, understanding firstly that there's no "official" or university degree in MSL.
In a very familial style, but with an authority and confidence reflected on each page, Dr. Chin drives us through very practical problems in becoming one of these selected few.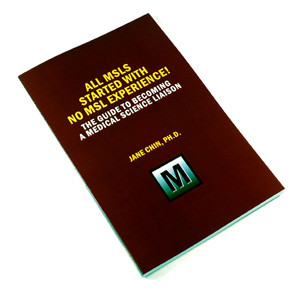 The book starts with a clear explanation in what is and what is not a MSL, and which are and which are not his or her duties and obligations. As obvious as this may sound, this is a point that most Pharmaceutical Companies fail to properly communicate to their new MSLs.
I lived personally that confusing experience when I was hired as Delegate to the Janssen Research Council, back in the early 90s. My expectations as a Physician becoming a Pharma employee were somewhat different to those of the real job (despite that, at the end of the day, being an MSL was one of the most rewarding professional experiences of my career).
With an easy reading approach, the book talks about the personality and character a MSL must have, in order to work with peers and sales forces while being a reliable communication channel with KOLs.
Important hints in how to apply to a MSL position, how to build a reliable résumé and how to deal with recruiters are also touched.
Dr. Chin questions (challenges) the reader on different situations that could become potential life-challengers when working as an MSL; like frequent traveling or the day-to-day dilemma of: representing the Company but not selling… while defending the Company's selling potential (and sometimes creating it).
"Pharmaceutical companies' field-sales teams have sales goals. They must attain as an outcome of commercial strategy. Field-science teams, including MSLs probably do not have sales goals, but the MSL role has therapeutic area-related goals, and attainment of these goals will help companies stay commercially competitive in the long term in that disease state".
But perhaps, the core expression of the book's title is reflected in the chapter named: "Overcoming 'Catch-22'", in which Dr. Chin explains the potential MSL candidate, that it is OK to have no previous experience.
With the proper background (that not always requires a Ph.D.) and the adequate elements of self-selling, the interested one could confidently pursue the position. The book includes even a checklist which certainly becomes handy, when dealing with recruiters or having to deliver a skills-appraisal presentation.
All MSLs started with no experience! (The guide to becoming a Medical Science Liaison), is a very interesting as well as practical and informative book, which certainly will help everybody keen in becoming part of a discipline and professional position, that is becoming more important, as new points of view are emerging regarding the Pharma business; and new and tougher compliance rules are being applied.
This is a nicely written book, for the 21st century.
For more information on this book, you can visit The Medical Science Liaison site, clicking HERE