Some months ago, I had the privilege of participate in one of the most peculiar projects.
The New York Times Technology top-journalist David Pogue sent a massive Twitter invitation to "co-write" a book made exclusively from "tweets".
David Pogue is one of the most admired tech-gurus in the media. He's also some kind of Renaissance-man: He is a professional musician (seasoned in Broadway), journalist in papers and TV, writer of the "Missing Manual" series of software and hardware books, magic aficionado, speaker & key-noter, obsessional photographer… amongst other skills.
You can read the official story of "The World According to Twitter" HERE.
According to David Pogue, "The World According to Twitter" idea belongs originally to his wife. Well, from my personal point of view this is a pretty well exploited idea as well of a very innovative concept which could certainly have a promising future.
·
Becoming co-author
During last april and may, David tweeted several interesting (and somewhat odd) questions, receiving in exchange thousands of answers.
For me, there was a nice natural interest for answering. You had to be quick-thinker (and typist) if you wanted to be in the first on Pogue's attention so he would RT (Re-tweet) your idea; thus,  the challenge was pretty cool, I have to say.
Of course, there was another (and most important) incentive: Those authors of the tweets selected to appear in the final print, would receive a signed copy of the book. I am a fan of David Pogue, and I love to have books signed (which I really read), so the challenge sounded great.
As a personal goal, there was this "mini-challenge" of writing a 140 "smart" note; with the adequate wit or humor to convince Pogue to choose it, having myself Spanish, not English, as my first language.
By the end of june, I received this DM (Direct Message) on Twitter, inviting me to give my personal data for the book to be sent. I was using my former Twitter account @xtello at that time.

In that web address, I learned that actually three (yes! not one, but three) of my tweets were chosen.
·
The three questions and my chosen answers were:
Q: What's your great idea to improve the cellphone (other than, "better signal coverage")?

A: A self-charging battery that converts everyday motion into power, like Citizen's Eco-drive watches.
·
Q: Caption this photo.




A: Vladivostok, Russia MAY09 (AP)—Russian Space program begins training babies for 25-yr mission to Alpha Centauri
·
Q: Tell us the story of your tatoo.

This one was interesting since I do not have a tatoo…

A: The only way they'd break me a $100 bill for me was if I paid $20 for this Pokémon on my shoulder.
·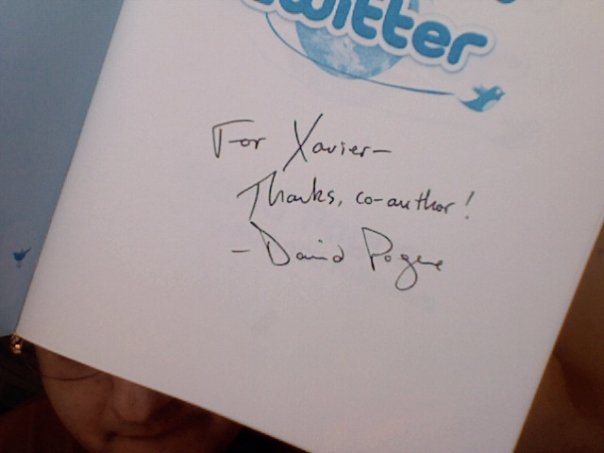 Last september, I received my signed copy of the book in the mail. Due to the well known inefficiency of Mexican mail, I was starting to worry; however it arrived safe and well protected in a waterproof envelope.
The book contains about 2,500 quotes and was edited in about 6 weeks (which happens to be impressive by Mexican standards); Pogue's editors and himself worked reading more than 25,000 tweets arriving to this happy "few".
The final product? A very interesting and hilarious book; full of humor and ingenious details which certainly will amuse you as well as -why not?- make you think a little bit.
I really hope you'll enjoy reading it as much as many of us enjoyed participating in it.