I'm not a Soccer fan but everybody knows (perhaps  USA inhabitants don't) that Soccer Football is the most popular sport on earth (and may be in the known universe…).
There's controversy about which is the most passionate country regarding their National Soccer Team; however, at least in the Mexican sense of proud, México is really crazy about it.
Today's Soccer match between México and Chile represented the farewell of the Mexican team before its travel to South Africa for the Football World Cup. As it's commonly heard in México: "The country was paralyzed".
Well, It was; at least in terms of my site's visitors.
Every weekend there's a fairly common quota of visits to my Blog (this one). As most of its content is in Spanish and this Consultant is based at México City, it seems pretty natural to have a good flock of Mexican visitors always with the same trend.
I am proud to be one of the early adopters of  Woopra, the most amazing and effective web analytics software and service available; thus, I can track in real time who is visiting my site as well as all the pertinent metrics (Country, visit time, ISP and even Browser and OS).
·
This is today's trend (taken at MEX 16:00h and something) according to Woopra.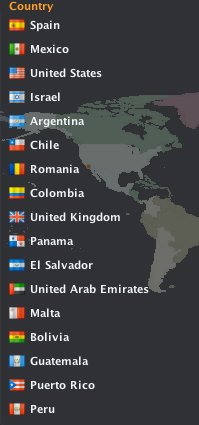 As you can see, the trend was hardly "disrupted" during the soccer time: noon to somewhere around 14:00h !!!
Then, the trend recovered.
Another interesting data: Due to the lack of Mexican readers, at those specific hours, our good folks and readers in Spain actually took over, pushing México's to 2nd place and USA's to 3rd.
Keeping vital analytics and statistics is a good discipline while running a website or blog; however it hasn't to be a boring task.
With Woopra, you can have real-time figures and trends that really enrich your knowledge about your traffic source or, like in this case, which popular sport is stealing your readers.
When doing Strategic Planning you use to consider "environmental factors"; as I learned today, I will need to consider the imminent World Cup in order to forecast which will be my potential traffic during the tournament… at least while México is still alive and kicking…
;-)