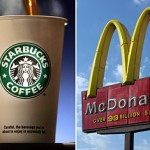 Verónica Baz escribe en su Blog Alt·Neg en REFORMA, sobre la competencia que Starbucks y McDonald's están comenzando en cuanto al enfoque de sus negocios.
Empresas con orígenes distintos; Visiones y Misiones distintas.
La Misión de Starbucks dice:
"…Establish Starbucks as the premier purveyor of the finest coffee in the world while maintaining our uncompromising principles as we grow…"
 La Misión de McDonald's dice: 
"…To be the world's best quick service restaurant experience. Being the best means providing outstanding quality, service, cleanliness and value, so that we make every customer in every restaurant smile…"
Ahora vemos a McDonald's aventurándose en el negocio del café y a Starbucks con desayunos.
Puede leer el post completo el post de Verónica Baz haciendo clic en el banner abajo: